Holiday Gift Ideas from Sweet Home Alabama
Product Information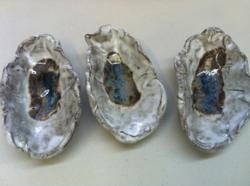 Montgomery, AL (PRWEB) November 21, 2012
Folk Art made by renowned Alabama artists, holiday themed keepsakes and baskets of southern culinary delights are several gift ideas this holiday season from sweet home Alabama.
Dozens of locally made items are available online, at tourism destinations or by phone. They include unique gifts like President Obama face jugs, custom-made glass ornaments, kits to make your own goat cheese and To Kill A Mockingbird birdhouses.
The state tourism department has compiled the following list of made-in-Alabama gifts and how you can get them:
JEWELRY/WEARBLES:
Item: Fairhope Charm
The commemorative charm is made of fine silver (.999) by Fairhope artist, Anita Park-Rosenbaum. The charm is handmade, round, and approximately 3/4″ diameter with a pelican in the center and the word Fairhope around the outside. The charm is also available with a flower in the center.
Purchase Information: Analece Design, Fine Jewelers, 395A Fairhope Avenue, Fairhope, or online at http://www.analecedesign.com. 251.929.3620 (Phone Orders accepted).
Price: $ 22.00 each
Item: Mesh Dogwood Necklace and Pin
The necklace is 3.5″ in diameter and is handmade by local artist Sarah Cavender of Sarah Cavender Metalworks in Oxford. The pin is also 3.5″ in diameter
Purchase Information: Birmingham Museum of Art, http://www.birminghammuseumstore.org, 205-254-2777
Price: Necklace $ 172
Price: Pin $ 80
Item: Jewelry by Selma artist Lilly Beck
Choose from bracelets, necklaces and rings hand-made by this Alabama artist.
Purchase Information: The Art Room, 50 N. Alabama Ave., Monroeville, 251.743.2190
Price: $ 6 – $ 60 per piece
Item: Island Scarf
This 4″ globe containing an Island Scarf by Celia Dionne/Clara's Loom is a casual eco chic circle of fabric and comes in 6 color combinations.
Purchase Information: Tallulah's Gallery/Fairhope 251.753.0015, Fish on a Dish/ Orange Beach 251.981.8323, Clara's Loom/Bon Secour 251.943.2960.
Price: $ 20.00
CULINARY:
Item: Alabama Food Book
Purchase Information: The Alabama Tourism Department has created a hard-cover book detailing restaurants and dishes listed in the 100 Dishes to Eat in Alabama Before You Die. The book also features a forward by Sister Shubert and a section on foods made in Alabama.
Purchase Information: http://www.bhamstore.com
Price: $ 20.00
Item: Cook with Tasia Box
Cheesemaker Tasia Malakasis serves up a helping of Southern hospitality with Greek influences in her newly debuted cookbook, Tasia's Table. Get your signed copy exclusively on Belle's online store. This gift box includes everything you need to get started in the kitchen with a signed copy of the book and a 6 oz. tub of honey Chevre.
Purchase Information: Online at http://www.bellechevre.com. 256.423.2238.
Price: $ 34.95
Item: Belle Chevre Cheesecake or Make Your own Goat Cheese Kit
Light and airy, creamy and sweet, these cheesecakes made with award-winning Alabama goat cheese will have all your guests begging for the recipe. You can also order a kit with everything you need to make your own goat cheese.
Purchase Information: online at Bellechevre, 256.423.2238.
Price: $ 34.95, DIY Goat Cheese Kit: $ 27.95
Item: Tailgate Salsa
The quest for a recipe worthy of the name Tailgate Salsa took many years of tweaking, countless parties with great family and friends, to taste test of course, and a lot of encouragement.
Purchase Information: Dothan Area CVB, http://www.visitDothanAL.com, 334.794.6622
Price: $ 5.00
Item: Landmark Park Honey
Fresh, local honey is harvested each year from the hives at Landmark Park.
Purchase Information: Dothan Area CVB and Landmark Park, online at visitDothanAl, 334.794.6622
Price: $ 9.00 for one pint jar
Item: Basket of Chocolates from Morgan Price Candy
Choose from a wide variety of chocolates including solid chocolate in the shape of Alabama, angel bites, heavenly bits, fudge and more. You can also get your goodies in a gift basket in the shape of the state.
Purchase Information: Shop online at http://www.morganpricecandy.com/, 1735 Sixth Ave. SE., Decatur, 256.350.2992
Price: Candies from $ 3.00 each to $ 10 for half a pound
Items: Pecans from Priesters
Send a gift of pecan pies, pecan candy, gift tins and an assortment of flavored pecans from an Alabama icon, Priesters.
Purchase Information: Shop online at http://www.priesters.com/index.cfm or visit the store and gift shop in Fort Deposit at 80 Bishop Bottom Road. 334.227.8355
Price: 1 lb. bags start at $ 5.99
Item: Earthborn Pottery Dishes
Dishes made from clay in the studio owned by artisan Tena Payne will make the cook in your family smile. The dinnerware is organic and made from Alabama clay. It is used at the Hot & Hot Fish Club in Birmingham and in other restaurants across the country. Plates, cups, bowls and other dishes are available and custom orders are welcome at the studio in Leeds.
Purchase Information: 205.702.7055, http://www.earthbornpottery.net
Price: The Earthborn baker casserole dish ranges in price from $ 30 -$ 104.
Item: Hand-painted food-safe china
A complete dinner setting by Monroeville artist Faye Dueitt would make for a great gift.
Purchase Information: The Purple Papaya, 71 North Mount Pleasant Street, Monroeville, 251.593.7449.
Price: 4-piece place setting – $ 100 or $ 20 – $ 33 per individual piece.
Item: Roy Hyde Cutting Boards- beautiful hand-made wooden cutting boards crafted from sustainably harvested hard woods (Cherry, Walnut, Live Oak)
Purchase Information: Windmill Market, 85 N. Bancroft St, Fairhope 251.990.8883 http://www.windmillmarket.org Open 7 days a week, Mon.-Sat. 7 a.m.-5 p.m., Sun. 11 a.m.- 4 p.m.
Price: Prices range from $ 25 to $ 55.
Item: Miracle Pottery Dinnerware
Dinnerware created locally thats decorative, food safe, oven-safe and microwaveable.
Price: $ 14-$ 31
Purchase Information: http://www.miraclepottery.com
HOLIDAY THEMED:
Item: Santa Gourd Ornaments
The ornaments make a wonderful addition to any Christmas tree. They are made by local artist Ginny Doughery using her Alabama grown gourds from Lillian.
Purchase Information: Foley Art Center, http://www.foleyartcenter.com, 251.943.4381.
Price: $ 8.00 and up
Item: Cypress Wood Carved Santa
This Cypress Knee Santa can bring cheer to any home this holiday season. The artist demonstrates her attention to detail with the intricate designs on this piece, including painted button hooks on the front.
Purchase Information: Black Belt Treasures, 209 Claiborne St., Camden, 334.682.9878, http://www.blackbelttreasures.com/store/p/108-Cypress-Knee-Santa-Large.aspx
Price: $ 55.00
Item: Handmade Christmas Stocking
This stocking has been masterfully handmade to represent the Christmas season. Complete with three different sections and red tassels at the top, this stocking would make anyones holiday season a little brighter.
Purchase Information: Black Belt Treasures, 209 Claiborne St., Camden, 334.682.9878, http://www.blackbelttreasures.com/store/p/133-Christmas-Stocking.aspx
Price: $ 32.00
Item: Alabama Pecan Wood Santas
These Santas are meticulously hand-carved and painted by local Magnolia Springs artist, Jeffery Glass out of locally grown pecan trees. They come in various sizes and are ideal for ta Find More Wooden Bowls Press Releases