PacificMerchants.com and Mason Cash Brings 19th Century English Traditions Home For The Holidays! Mixing bowls & pudding basins used by Julia Child and the Royal Family.
Product Information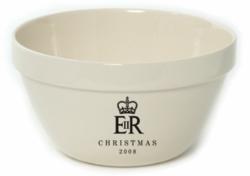 Los Angeles, CA (PRWEB) October 21, 2011
Mason Cash handcrafted British ceramics can be traced back to Derbyshire, England, circa 1800. The nostalgic feel of the white and cane glazed earthenware gives a special flavor to whatever youre whipping up in the kitchen. Cooking icons like Julia Child and Martha Stewart have regularly used the brand; even the Queen of England relies on Mason Cash for Christmas pudding giftsa venerated English tradition (see attached recipe for traditional Christmas pudding).
Mason Cash represents a return to fundamentals: kitchen essentials crafted with pride, and meant to last a lifetime, says Bruce Mannis, owner of Pacific Merchants. Families enjoy these hand-crafted pieces year after year, then pass them along as heirlooms to gather more cherished memories. The beauty, durability and practicality molded into each glazed earthenware piece has earned Mason Cash an honored place on generations of holiday tables.
While Mason Cash products may offer a sweetly nostalgic remembrance of your grandmothers favorite piece, the line is anything but old-fashioned. The mixing bowls raised pattern hasnt changed in more than 100 years; and the pudding basin has been unchanged for more than 200. Simplicity of design gives Mason Cash bowls and pudding basins a timeless beauty thats as at home in an upscale dining room as it is in a country kitchen.
With a full array of sizes, a unique best-seller is the impressive 14 inch diameter bread bowl. Oversized proportions make it perfect for kneading bread and preparing favorite family recipes for the holiday meal and is beautiful all year long, even as a kitchen centerpiece holding fresh fruit.
Mason Cash also produces highly collectable mortar-and-pestle sets, that are considered the world's best.
Price & Kensingtons much-loved steeping teapots are functional and cheerful pieces that perk up any countertop. Based on the 17th Century Brown Betty design, these stout, rounded teapots reached the height of popularity at Queen Victorias court and have remained a style icon ever since. The classic shape encourages tea leaves to swirl gently with the addition of boiling water, producing a rich, full-flavored and less bitter tea.
An array of rich glazes and a vivid, festive designer palette ensure Price & Kensington stoneware teapots and accessories complement even the most contemporary surroundings while still managing to evoke a sense of connection to a rich historyencouraging users to slow down, unplug, relax and enjoy the soothing ritual of sitting down for a cup of tea. Teapots, teaware, tea infusers, teabag caddies, tea canisters and tea cups all mix and match for a cheerful kitchen!
Its easy to get caught up in all the hustle and bustle during the holidays, says Mannis. Brewing a pot of tea to share is a wonderful excuse to relax. You can splurge without guilt and spend some time connecting with the people you care about over a special blend of tea poured from a Price & Kensington teapot. Making time to enjoy our favorite people over the holiday season is the most priceless gift of all.
Eco-Friendly Acaciaware