Telluride Festival Of The Arts Announces Schedule Of Events
Product Information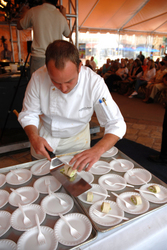 Mountain Village, CO (PRWEB) August 3, 2007
The Telluride Festival of the Arts, one of the nation's premier outdoor fine arts festivals, announced today its Schedule of Events for August 16-19, 2007. Against the backdrop of the majestic San Juan Mountains, the Festival offers visitors the opportunity to meet and talk with renowned and emerging visual artists from across the United States as well as sample sublime cuisine from award winning chefs.
The signature celebration of the weekend is the Grand Tasting event which happens on Friday, August 17 in Heritage Plaza and the Conference Center Plaza at 6 p.m. The Grand Tasting event brings together Telluride's top chefs and restaurants with world class wines and spirits as guests enjoy distinctive selection of dishes and desserts.
A complete Schedule of Events with ticket prices and locations is available at http://www.TellurideFest.com.
Thursday, August 16
6:00 p.m. – 8:00 p.m. Patrons Welcome Reception
Telluride Festival of the Arts kicks off the weekend with its Patrons Welcome Reception. Guest chefs and artists join TFA sponsors, local dignitaries and VIP guests for an intimate reception.
Friday, August 17
12:00 p.m. – 9:00 p.m. Artist Exhibition
Sixty world-renowned artists display their masterpieces for your viewing pleasure, with art available for purchase in Heritage Plaza and the Conference Center Plaza in Mountain Village.
12:30 p.m. – 1:15 p.m. Chef Demonstration featuring Chef Christopher "Heath" Stone
A graduate and professor of Johnson & Wales University, Chef Stone will demonstrate his unique culinary style based on his years of experience which included working for French Master Chef Raymond Blanc.
2:00 p.m. – 2:45 p.m. Chef Demonstration featuring Chef Jake Linzinmeir
A driving force of local restaurant industry, Chef Linzinmeir serves as executive chef of Excelsior Caf