The New Englander Brings Handcrafted Wooden Products Back to The Cotton Company
Product Information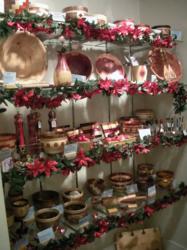 Wake Forest, NC (PRWEB) November 15, 2012
Woodworker Bob George is returning as a vendor to The Cotton Company after a short hiatus. The New Englander brings hand turned and uniquely crafted wooden bowls and kitchen wares back to the local artist community of Wake Forest. Just in time for the holidays, The Cotton Company is proud to announce this beautiful line of solid and segmented wooden bowls, mugs, serving trays, napkin rings and much, much more.
The talents of Bob George have been developing over the past 22 years and right now he is producing some of the best wooden products in the area. There is a wonderful collection here inside The Gallery at The Cotton Company and custom orders are also welcome.
The Cotton Company is a boutique marketplace in the heart of Wake Forests Historic Downtown District. Enjoy shopping over 50 different businesses and find unique handcrafted items throughout the store without sacrificing the some of the hottest brand names on the market. Support your local artists and businesses this year and add some small town joy back into your holiday season.